24/7 Orlando Heavy Equipment Transport
What makes Johnson's the best heavy equipment transport service in Orlando?
We are the largest wrecking service in Orlando. With a fleet of 3 rotators, 20 flatbeds, 2 industrial rollbacks, 4 landoll trailers, 1 nitrogen stinger, and 3 Fontaine detach trailers, we've got the equipment for every job!

WreckMaster certification. Our heavy equipment transport team is WreckMaster certified.

We've got the experience. With over 5 decades of towing experience under our belts, you would not believe the vehicles we have worked with. From airplanes to RVs and buses to excavators, you can trust Johnson's with your heavy duty transport needs.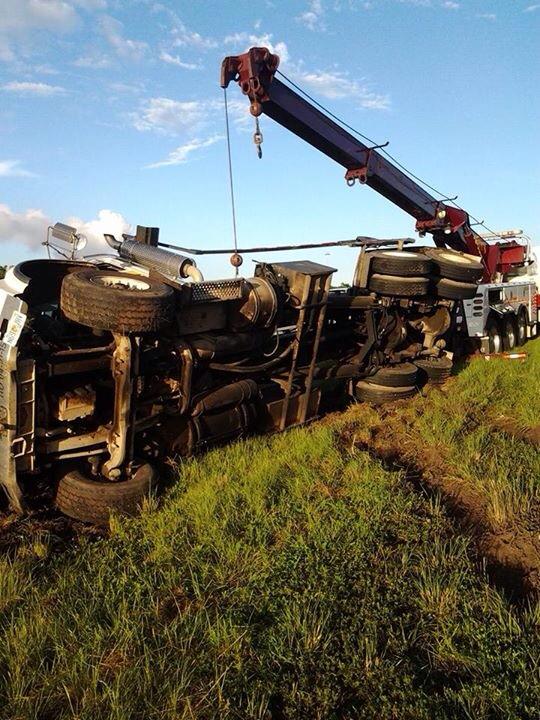 Heavy Duty Winching Service and Ditch Pull-Outs
RV and Bus Winching Service
Semi Truck Winching Service
Low Bridge Semi Recovery Service
Sunken Tractor Trailer Lifting
Jackknife Trucks
Off Road Winching Services
Underwater Recovery Services
Ditch Pull Outs
Semi Truck Rollovers
Learn more about our Heavy Duty Winching Services.
Orlando Heavy Cargo Services – Load Shifts, Load Swaps, and Transfers
Ever since we opened our doors in 1967, our business has been built upon long-standing partnerships and trust within our community. When our loyal customers expressed a need for a reliable cargo service provider in Orlando, we decided to answer their call!
Stuck at the scales with an uneven load? Our heavy load shift team can reposition your load to ensure that the weight is evenly distributed between all axles.
Need a quick load swap or transfer? We have all the equipment to get the job done quickly and efficiently.
Our dispatch team is waiting for you 24 hours a day, 7 days a week, 365 days a year. Call us now at 407-380-5829.
Heavy Duty Towing Services in Orlando, Florida
As Orlando's largest towing service, no job is too big for Johnson's Wrecker Service. Our heavy duty towing division has grown to become Orlando's leader in heavy towing and we work hard to keep it that way.
Our fleet of over 50 trucks includes numerous heavy duty wreckers and three 75-ton rotators. We have also invested in lowboy trailers, flatbeds, forklifts, lift bags, and more, to be able to respond to any heavy duty towing need our customers may have.
You can have the best equipment in the world but they are worthless without the right people operating them. All of our heavy duty tow truck operators are WreckMaster certified ensuring that your vehicle and equipment are in good hands.
Heavy Duty Towing Services
50 Ton Rotator Service
Big Rig Tows
Heavy Off Road Winching
Truck Roll-Overs and Wrecks
Cargo Recovery and Cargo Transport
Cargo Transfers
Heavy Load Shifting
Road Tractor Swap-outs
Leaning Trailers
Forklift Service
Towing and Recovery
Mobile Loading Dock
Decking and Undecking
RV Towing
Mobile Home Towing
Bus Towing
Construction Equipment
Heavy Equipment Towing
Fully Insured Orlando Towing Company
Did you know that insurance requirements for towing companies are often so demanding that most Orlando-area towing companies gave up on being insured?
Johnson's Wrecking Service believes in accountability and integrity. We are a fully insured towing company meaning that, on the off chance that things do not go as planned, everyone is protected. While we believe we have the strongest work ethic in the industry, sometimes life throws you curveballs. Thankfully, we're ready for them.
Heavy Duty Towing Service Area
Orlando, FL, 32801
Orlando, FL, 32802
Orlando, FL, 32803
Orlando, FL, 32804
Orlando, FL, 32805
Orlando, FL, 32806
Orlando, FL, 32807
Orlando, FL, 32808
Orlando, FL, 32809
Orlando, FL, 32810
Orlando, FL, 32811
Orlando, FL, 32812
Orlando, FL, 32814
Orlando, FL, 32815
Orlando, FL, 32816
Orlando, FL, 32817
Orlando, FL, 32818
Orlando, FL, 32819
Orlando, FL, 32820
Orlando, FL, 32821
Orlando, FL, 32822
Orlando, FL, 32824
Orlando, FL, 32825
Orlando, FL, 32826
Orlando, FL, 32827
Orlando, FL, 32828
Orlando, FL, 32829
Orlando, FL, 32830
Orlando, FL, 32831
Orlando, FL, 32832
Orlando, FL, 32833
Orlando, FL, 32834
Orlando, FL, 32835
Orlando, FL, 32836
Orlando, FL, 32837
Orlando, FL, 32839
Orlando, FL, 32853
Orlando, FL, 32854
Orlando, FL, 32855
Orlando, FL, 32856
Orlando, FL, 32857
Orlando, FL, 32858
Orlando, FL, 32859
Orlando, FL, 32860
Orlando, FL, 32861
Orlando, FL, 32862
Orlando, FL, 32867
Orlando, FL, 32868
Orlando, FL, 32869
Orlando, FL, 32872
Orlando, FL, 32877
Orlando, FL, 32878
Orlando, FL, 32885
Orlando, FL, 32886
Orlando, FL, 32887
Orlando, FL, 32891
Orlando, FL, 32896
Orlando, FL, 32897
Orlando, FL, 32899
Altamonte Springs, FL, 32701
Altamonte Springs, FL, 32714
Altamonte Springs, FL, 32751
Apopka, FL, 32712
Apopka, FL, 32766
Apopka, FL, 32703
Apopka, FL, 32714
Apopka, FL, 32798
Casselberry, FL, 32707
Casselberry, FL, 32730
Casselberry, FL, 32751
Casselberry, FL, 32792
Christmas, FL, 32709
Clermont, FL, 34711
Clermont, FL, 34715
Davenport, FL, 33837
Debary, FL, 32713
Deltona, FL, 32725
Deltona, FL, 32738
Deltona, FL, 32763
Deltona, FL, 32764
Dundee, FL, 33838
Eustis, FL, 32726
Eustis, FL, 32763
Geneva, FL, 32732
Goldenrod, FL, 32792
Goldenrod, FL, 32817
Gotha, FL, 34734
Gotha, FL, 34786
Groveland, FL, 32712
Groveland, FL, 32703
Groveland, FL, 32766
Groveland, FL, 32798
Groveland, FL, 32714
Haines City, FL, 33844
Haines City, FL, 33845
Intercession City, FL, 33848
Kissimmee, FL, 34743
Kissimmee, FL, 34744
Kissimmee, FL, 34746
Lake Mary, FL, 32746
Longwood, FL, 32750
Maitland, FL, 32751
Maitland, FL, 32810
Minneola, FL, 32715
Montverde, FL, 34756
Mount Dora, FL, 32757
Ocoee, FL, 34761
Oviedo, FL, 32765
Oviedo, FL, 32766
Plymouth, FL, 32712
St. Cloud, FL, 34744
St. Cloud, FL, 34769
St. Cloud, FL, 32771
St. Cloud, FL, 34772
Sanford, FL, 32773
Sorrento, FL, 32776
Windermere, FL, 34786
Winter Garden, FL, 34787
Winter Park, FL, 32789
Winter Park, FL, 32792
Winter Park, FL, 32814
Winter Springs, FL, 34787
Johnson's Wrecker Service, Inc. | 
Phone:
 407-293-2540