Dangerous Load Shift in Apopka, Florida
Johnson's Wrecker Service responded to a load shift incident in Apopka, Florida. Before we jump into the story, let's remind everyone what a load shift is and why it is every driver's worst nightmare!
In the simplest of terms, load shifts occur when the load being transported in a trailer suddenly shifts. This can be caused by a multitude of factors including a sudden braking incident or improper loading.
Load shifts can be dangerous because they can cause a truck to become unbalanced and overturning. On other occasions, load shifts can also cause the cargo to burst out of the trailer and onto the road.
On this particular occasion a truck driver was transporting barrels of syrup to a soft drink factory when a car cut him off, forcing him to slam on the brakes. The braking force was so intense that the heavy barrels of syrup tore through the front walls of the trailer!
This seems like a good time to remind you to give trucks ample space when you're on the road. They need a lot more time to come to a stop than you do in your car! Thankfully no one was injured this time. That being said, had a stray barrel been hit by an oncoming car, it could have been disastrous!
Johnson's Wrecker Service was on scene in no time with a 50-ton wrecker, 50-ton rotator, bobcat, support truck, and roll-off dumpsters. They worked methodically, moving the remaining barrels to the rear of the trailer prior to picking them up with the bobcat.
Within two hours, the accident had been safely cleared. Fantastic work out there team!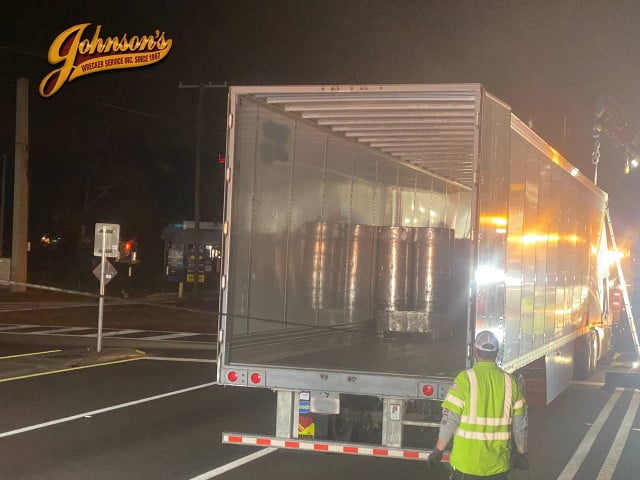 Details of Dangerous Load Shift in Apopka, Florida
The load shift correction team at Johnson's Wrecker Service received a call. A truck had experienced a catastrophic load shift in Apopka, Florida, close to I-429. A team was immediately dispatched to the site of the load shift. The Orlando load shift response team included 5 employees, one 50-ton wrecker, one 50 ton rotator, one bobcat, one support truck, and roll-off cans.
Once the load shift response team was on scene, they ran a full assessment of the situation. This assessment is key to ensure that they are clearing the accident site as safely and efficiently as possible.
The 50-ton wrecker was used to winch the product that remained in the trailer towards the rear of the trailer. The load shift team then picked up the product and placed it on the ground with the bobcat.
The 50-ton rotator was used by the load shift team to clear up the barrels at the front of the trailer. The 5-man team took 2 hours to clear up the accident site. Once they were done, they made their way back to their headquarters at 7777 Narcoossee Rd, Orlando, FL 32822, United States.