Orlando Towing Company Equips Trucks with Safety Cloud®
The Orlando community has trusted local towing company, Johnson's Wrecker Service, for over 50 years. Since 1967, the expert team has served the Orlando community with their professional and reliable towing services. Family-owned and run, the Johnson's crew understands the importance of dependability, quality service, and above all – safety.
Safety is at the forefront of all of the towing company's jobs. Johnson's Wrecker Service responds to all calls and jobs keeping the welfare and well-being of all involved in mind. Safety for the community is of great importance to the team and they are excited to implement new technologies and systems that can keep their team, customers, and drivers safe. In an effort to reduce the potential for roadside accidents while the towing company is working, the Johnson's team has recently equipped all of their trucks with the HAAS Alert's Safety Cloud®.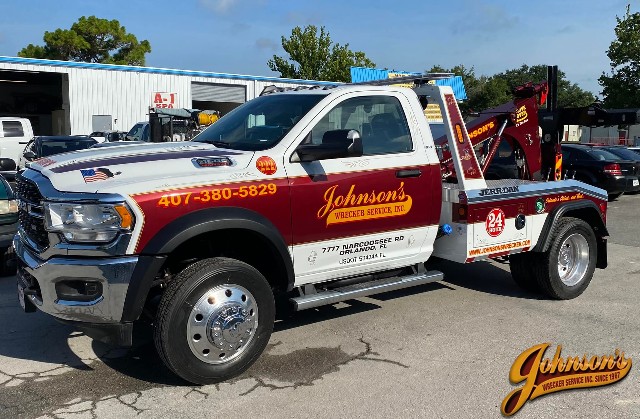 Towing Company Uses HAAS Alert's Safety Cloud®
This HAAS automation system is a collision prevention service. It alerts other drivers on the road that an emergency vehicle is present on the scene and has their lights turned on. The Safety Cloud allows drivers enough time to slow down and move out of the way of the emergency scene, reducing the risk of a potential collison by up to 90%. With 30 seconds of advance warning, motorists have more time to react and slow down.
The Safety Cloud not only protects surrounding drivers, but the tow truck drivers and first responders as well. Move Over laws are more adhered to by drivers as the notifications in real-time. With towing crews working on the roads, oftentimes in inclement weather or dark environments, they are better protected because of these notifications.
If you are involved in an accident or emergency roadside situation and you are with the towing company crew, you can rest assured that drivers around you will be made aware of your presence. Drivers around you are more aware of the advanced digital notifications, and are more likely to slow down and move to the side after receiving these alerts.
Details of Towing Company Uses HAAS Alert's Safety Cloud®
If you are a driver in Orlando and its surrounding areas, you can receive real-time information, alerting you when a towing company crew is nearby and working on the road ways. You can receive these alerts through apps that you likely already have downloaded onto your smartphone. Waze and Apple Maps are compatible and you can link up your phone to receive these notifications. If you have an infotainment system through Ford Sync, Apple CarPlay, and Android Auto or newer vehicle models of Chrysler, Dodge, Jeep, Ram, and Alpha Romeo you can easily set it up.
If your vehicle is not compatible, worry not as HAAS Alert expands the system to other services and vehicles. The Safety Cloud has proven its reliability and effectiveness as many fire and police departments have also implemented the system. As a responsible and aware towing company, Johnson's Wrecker Service is proud to lead the way in the industry. Safety and security for their crew, customers, and the Orlando community will always be their top priority.